Gone Fishing (in Crystal Lake)!
One of the biggest attractions for visitors to Northern Michigan is fishing, whether it be on the "big" lake (Michigan), or any of our numerous smaller lakes that dot the region. Chimney Corners Resort, located on scenic M-22 highway, is also on Crystal Lake, one of the deepest. clearest inland lakes in Michigan. According to the DNR, our home lake is home to one of the most diverse fish populations in the state. (http://www.michigan.gov/dnr/0,4570,7-153-10364_53405-322819–,00.html). Kevin Wade and his family are long time resort guests who spend part of their vacation time exploring that diversity…with great success! We "caught up" (little fishing pun for you) with Kevin and asked him to share a little of his technique, and his photos from just a couple weeks ago.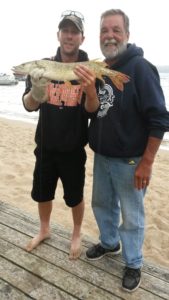 Kevin normally is on the hunt for lake trout, salmon and steelhead, all of which are good eating! The salmon and steelhead are the most fun to catch, opines Wade. They use a "down-rigger", which, for those of you who are not fisherman, is a device which uses trolling and places a line at a desired depth. In this case, they were fishing at 50 to 75 feet down in 70 to 120 feet of water.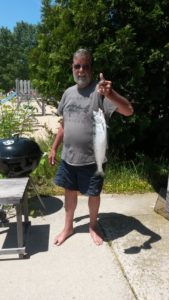 They used trolling spoons as bait for these catches, and have had the most success with gold, green and blue lures. Time of day has not seemed to matter much, but if pressed, Wade believes morning and just before sunset are usually the best.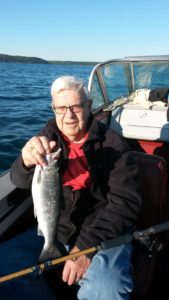 Deep water not your thing? They also have had success with catching pan fish in the shallower water off of the south shore, but have to content themselves with smaller catches. There are weed beds there where you might catch some perch, Wade confides.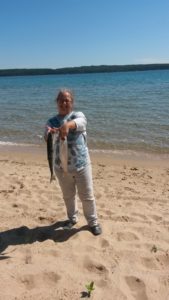 Whatever your pleasure or preference of fish, Crystal Lake delivers! Plus, who doesn't want to spend a peaceful morning or evening on the lake?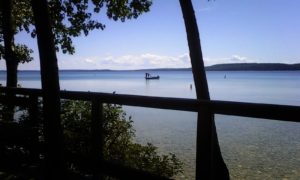 Interested in trying your luck? You can pick up bait, lures and gear as well as snag a fishing license in Frankfort at The Tackle Box , or Riverside Canoe, located just a couple miles north of Chimney Corners on the edge of the Sleeping Bear Dunes National Lakeshore. And of course, you can stay with us and get that early start in the morning! Call us now at 231-352-7522 or book online at www.chimneycornersresort.com under the Check Availability tab! Almost all of our units have been discounted for the summer, including apartments at select cottages at 25% off. Rent a cottage for three nights and you'll have a kitchen to cook up your catch! And of course, shameless plug for our beautiful beach shown off in these photos. Happy Fishing!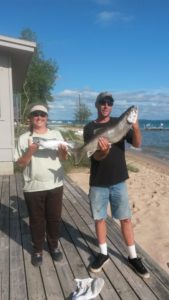 Springing Forward
For those of you that have stayed with us here at Chimney Corners Resort, you are aware of the many different options of lodging we have; smaller apartments, a historic Lodge bed and breakfast, and cottages that sleep anywhere from two to eighteen people. All of these accommodations vary in age and decor, from an updated, modern beachy feel (Bluewater) to shabby chic rustic barn (Woodsmere) and everything in between. When returning guests breeze in for a week or two every summer, they value the simple, laid back "vintage" feeling that Chimney Corners represents.
But take a moment to really reflect on what it means to keep 20 cottages, all with decks/porches and fireplaces clean, comfortable and livable, while still retaining that vintage character that guests know and love. Now add in a historic two story Lodge with eight rooms, two full bathrooms, a separate apartment with bathroom, four dining rooms, a commercial kitchen, office space and four charming stone fireplaces. Picture how much work is required to keep your own home, especially if it is older, in great shape. Are you getting an idea of how much work is involved? Sure, we shut down all of the buildings November through April, which is no small feat, and involves removing, bagging, wrapping, tagging, and covering every stick of furniture and piece of decor. Come spring, it all reverses, when every bit of every unit is washed, scrubbed, polished and organized for another year. Our maintenance manager, Allan "Howie" Howard has all he can do to keep up with issues that arise all summer when guests are in the cottages, which means he works full time all winter as well to complete "projects" to fix and improve each dwelling.
But one man cannot accomplish all that needs to be done in 20 cottages (plus the Lodge), especially when it comes to going above and beyond just fixing what is broke. And the best time to accomplish these improvements? Spring! In early April, Howie turns the water back on, the housekeeping staff starts cleaning, and Mary and Jim begin to evaluate all of the small, medium, and large tasks needed to update the cottages and grounds, while still keeping a handle on a tight budget. Here are some of the extra touches accomplished this spring, all in the name of your vacation pleasantness!
Howie and his able assistant Evan take care of most of our grounds with a little help from Land and Lakes for the mowing and spring clean up. But what about all those trees? This year we had a tree service in to take care of some of the dead and dying trees around Bluffholm, Hillside and the West Hills, and although it's slightly more bare, the views from the bluff are much improved!
If you were a victim of the leaky roof in West Hill #1, you'll be pleased to know we have a brand new roof on the West Hills as well as Kudzu! Kudzu gets the modernized update of a metal roof over the screened porch area, but we think it blends quite nicely with the main roof.
Kudzu was also the recipient of an exterior paint job, and so was Jonquil. Which goes nicely with the brand new deck surrounding Jonquil. Although the footprint remains the same, the old and rotting deck has been completely replaced.
We can't forget the beach area. Howie and Jim brought in 50 new yards of beach sand to spread around the shore, and 30 more yards over by the dock area. Your toes will say Thank you!
Yes, the waters of Crystal Lake are impressive, but equally as dear is the frog pond up by the laundry and garage. Howie and Jim donned their waders, drained the pond and shoveled out half the leaves that would eventually clog up the water and promote weed growth. Don't panic, none of our froggy friends were harmed in this process; the boys carefully scraped the other half of the leaves into the center of the pond for them to rest and wait out the process, as well as the tall grasses surrounding the pond where they can hide from natural predators such as snakes and raccoons. The pond has been refilled and is back in action.
Of course many places get new bed linens, lamps and other decor. Bluffholm's living room got a new picture window, and it actually opens! Bring on the lake breezes! Bluewater cottage got all new living room furniture. The Lodge Apt, gets a facelift in the decor: new quilts, new chair, new pillows, new art, and new tables and lamps. Whew!
And lastly, we are so proud of our new (looking) kitchen in Woodsmere! We installed a dishwasher (yay!) because when a place sleeps 18, you kinda need a dishwasher. Doing this robbed an already smallish kitchen of valuable cupboard space. Our on-call carpenter, Jim Petak, was able to modify the cupboard around the dishwasher into a slightly smaller space. Opposite was a smaller stand alone old metal cabinet with a non-matching wooden wall cabinet. We ditched those, and Jim P. built us a brand new, better functioning cabinet. But jeez, the new doors did not match the existing cabinet doors, so he made us all new doors! With a snazzy new paint job in "Thistle", they look like brand new cupboards! Adding to the storage space, he also installed rustic shelves on both walls supported by painted plumbing pipes (say that five times fast!) giving us a whole new industrial modern rustic vibe. And, we did get some new living room furniture if you aren't the cooking type.
Of course, with Highview recently purchased, we are already seeing some great decor changes. We look forward to seeing the new owner's visions for their piece of Crystal Lake heaven come to fruition. Updates will follow as we get them.
All of these things happened in approximately four weeks. What did you do to improve your living space in the last month? We look forward to your reactions to our improvements when we see you this summer! If you haven't scheduled your vacation yet, now would be a great time! Click on our new Online Booking Option to get started.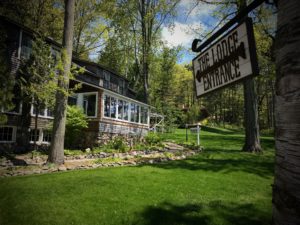 Top 10 Reasons to Visit Chimney Corners Resort (& Benzie County) in fall.
Top 10 reasons to visit Chimney Corners Resort (and Benzie County) in the fall:
#10 Warm Days, Cool Nights, Great Star Gazing
Autumn is arguably the best season is Northern Michigan for bodily comfort. With average high temperatures in the mid 60's in September and the mid 50's in October, it's the perfect time to take in lunch about town in a t-shirt, followed by sporting that new sweater and leather boots for the dinner crowd. Crisp, clear nights allow for plenty of cozy evenings by the fire, indoors to sip hot chocolate or deep, red wine; outdoors for taking in the spray of stars above the Point Betsie lighthouse.
*BONUS* It's a great excuse for splurging on that new Chimney Corners fleece jacket, as in "Wow, I had no IDEA it was going to get this chilly at night, lucky me these warm & cozy fleece jackets are available!"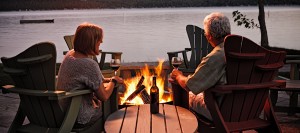 #9 We're Located on Scenic Highway M-22
Need we say more? Is there anyone yet in this hemisphere tha
t has not heard of, or does not own our beloved, iconic M-22 symbol? Perhaps, but more than just a highway sign and brilliant marketing craze, M-22 really is a scenic meander through beautiful, rolling hills, glimpses of cerulean Lake Michigan, orchards with fruit ready for picking, and small towns offering shopping treasures and culinary surprises. Not to mention the leaf peeping in October is off the charts.
* BONUS* After you have hiked and climbed in the sand at numerous Sleeping Bear Dunes National Lakeshore locations, you can pick up your own souvenir at the M-22 store in Glen Arbor, or at Baywear in Frankfort.
#8 Surfs Up on Lake Michigan
Remember the gales of November coming early to the Edmund Fitzgerald? (Cue Gordon Lightfoot) Those gales start as windy days in September. A lot of windy days. Perfect for trying out surfing at Frankfort Beach. Can you really surf? Yes, really. A prime location for both traditional surfing, paddle surfing, and kiteboarding, Frankfort beach draws enthusiasts from as far away as Traverse City. On any given windy day, it is not uncommon to see a couple dozen wetsuit clad surfers sharing the waves. Even if braving the Lake Michigan currents are too much for you, watching others hanging ten (and crashing spectacularly) is an entertaining way to spend a windy day. Beats riding the waves on a Lake Michigan freighter doomed to destruction, anyways.
*BONUS* Bragging rights to your friends that you've actually surfed. Rent a board through Crystal Adventure Sports in Beulah. http://crystallakeadventuresports.com/rentals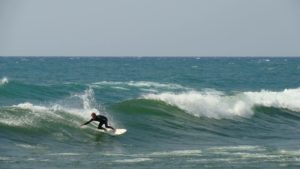 #7 No Waiting in Line for Dinner
It's no secret that Benzie County (and the surrounding northern Michigan counties) is home to some fantastic restaurants. What is frustrating, is that after a long, hot, summer day spent hiking, fishing, paddling and swimming, you often find yourself with a two hour wait when trying to crowd into your favorite local watering hole. We can't promise your chosen place won't be busy, especially if trying to dine at peak dinner hour, we can tell you fall offers a much needed respite from the madness of summer in small resort towns. While it's true that a lot of restaurants lose their summer college staff and are forced to reduce their hours, and may even be closed a couple of days a week, when you do get in, it most likely will make for a more pleasurably relaxed dining experience.
*BONUS* Belly up to the bar! When times are quieter, locals are chattier, and it makes for some good conversations about where to go, what to do, and where to find those petoskey stones, secluded beaches, or secret hiking spots.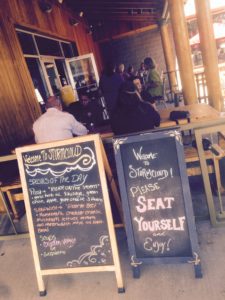 #6 Autumn Time & The Swimming is Easy
Wetsuit? We don' need no stinking wetsuit! The lakes are still warm, people. It takes several cool nights for the lake temperatures to significantly drop. This makes for some gloriously refreshing swims on those bright, sunny days. And it doesn't take a science degree to know that the slightly cooler air temps make the water feel warmer. Adding to the joy, instead of weaving your way through the throngs of sunbathers and splashing children, you have the beach practically to yourself! Plenty of room to spread out and enjoy. Inland, Crystal Lake also has significantly less traffic, boating and otherwise. A quiet morning fisherman or maybe a lone kayaker or two will be your companions.
*BONUS* Cooler water temps on Crystal Lake means no swimmers itch! While it is not scientific, there is a "season" for swimmers itch, and fall ain't it. So go ahead and wake board all you want. Crystal Lake is waiting!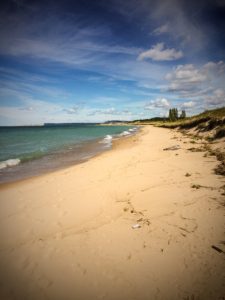 #5 Harvest Time
Benzie County is full of the bounty of the fields. The Elberta Farmers Market on Thursdays and the Frankfort Farmers Market on Saturdays are chock full of seasonal produce such as root vegetables, apples, pumpkins, and fresh meats. The Elberta Market farmers are only allowed to sell that which they grow personally, so you can talk to the hand that actually grew your food. There are several organic options as well. The Frankfort Market features local arts and crafts as well as produce. Don't forget, this is also the season for hops and grapes! Area wineries and breweries offer several events to celebrate the season. Check out the tasting rooms and events at lpwines.com. Or join us for Frankfort Beer Week, a weeklong celebration of events, October 3-8th  at participating Frankfort restaurants toasting Beer! Details at www.frankfortbeerweek.com
*BONUS* – a Chef's Beer Dinner to be held in our very own Chimney Corners Dining Room. Several courses prepared by notable northern Michigan chefs, paired with a Stormcloud beer. Can you say Foodie/Beer Lover Dream Come True?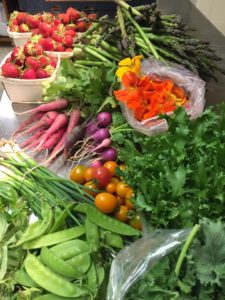 #4 Fall Fests & Parades & Events, Oh My!
Benzie County must love fall as much as we do, because there are more events than tourists with ice cream cones. If one Fall Fest isn't enough for you, well then fine, we'll give you two! Beulah and Frankfort take turns hosting this fun fall event, each on consecutive weekends beginning in October. Parades, kids events, baked goods, horse drawn rides, pumpkin decorating, games, prizes, mazes, helicopter rides, beer tents, dropping gi-normous pumpkins on wrecked cars; we could go on, but we want you to finish reading this before the events actually happen. Get all the details of the happenings at http://www.visitbenzie.com/fallfest-67/.  After the whirlwind of activity, settle in for some great cinematic events at the annual Frankfort Film Fest. Three days of award winning films are shown in our renovated Garden Theater in downtown Frankfort, complete with launch party and guest filmmakers. Details at http://www.frankfortgardentheater.com/film-festival/.
 *BONUS* – As a sponsor of the film fest, Chimney Corners offers a special deal: rent a West Hill Apartment unit (sleeps 4) and receive two free tickets to a film.
# Quality of Light
We don't know if you notice arty things like light and shadow, but we are in love with the saturated magic of fall. A slightly lower sun, less humidity; we don't even know the real scientific causes, but we do know that on sunny afternoons, the sky is so blue it defies any crayola color invented. On those stormy, windy days when fiery red and orange leaves are backdropped by angry, black storm clouds, but still illuminated by bright sunshine, we want to grab our cameras and post all over social media about the charm of northern Michigan. And when that golden light of early evening is out, we know that no Instagram filter can duplicate that precise warmth that makes us all look like rock star photographers.
*BONUS* Your friends will all be jealous of your posts on Facebook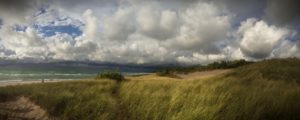 #The Best Sunsets Ever
Ok, we know we've covered quality of light already, but sunsets have to be in a category all their own. Skies awash in purple, gold, magenta, rose, and indigo hues. It's magically delicious. Enough said.
*BONUS* The whole experience is a bonus, what more do you need?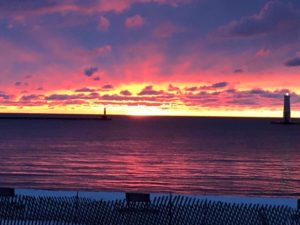 And the number one reason to visit Chimney Corners (and Benzie County) this fall??
#1 Reduced Rates at Chimney Corners Resort!
Chimney Corners moves to our fall rate schedule. Rent a Lakeview Apartment that sleeps a family of four for as low as $99 per night. How about a room in our historic Lodge for only $60 per night? Can it get any better? How about listening to the lapping of the waves at your window in a beach front cottage? Starting at $605 for three nights, you'll sleep like nobody's business. Especially after enjoying the first nine items on this list.
*BONUS* When you call the office to reserve, you get to speak to one of our friendly staff just waiting to help you get here. Call us at 231-352-7522 to take advantage of all that Benzie County has to offer!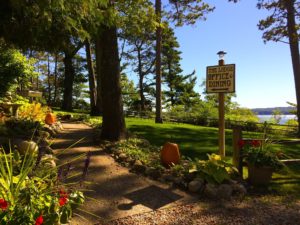 Always something new.
We get it. You slave away at work at a desk or inside a building with only the thought of your eventual vacation escape to sustain you through the days. Sometimes a little news of a treasured getaway spot can be a welcome respite from the doldrums. That's where we come in. A few tidbits and snippets from the shores of Crystal Lake. Photos and specials from your favorite vintage resort, and your cozy cottage rental. News and notes from our Wednesday and Friday dinners, including our locally based culinary delights and our latest wine and craft beer finds. Maybe it's an update on weather happenings, or just a funny story we want to share with you. We want to be your connection to up north, to Crystal Lake, and to your mini-escape from the office.
For instance, do you recognize these birds floating on Crystal Lake?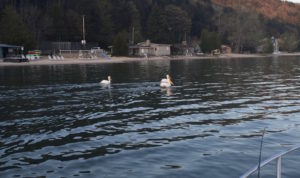 We had to look twice! Yes, it is the American White Pelican, and no, we aren't in Florida! Our own Crystal Lake was the stopping point for these typically southern birds, on their flight north to Canada for the summer. Recognizable by their size and long bills, adults often have a distinctive bump or projection on the end of their bill. According to the Cornell Lab of Ornithology Range Map, these guys are generally flying more west of us on their way north. Sighting them on our own Crystal Lake is a rare treat for residents. The Sleeping Bear Dunes National Lakeshore lists them as only very occasionally seen in this area, and usually on Lake Michigan. SleepingBearBirdingTrail.org has a neat feature on their page: a box tracking sightings of various birds around Michigan. On or around this same date (May 20th), the pelican was seen in the UP at various sites and around the Shiawassee River area.
Here at Chimney Corners resort, we often have nesting bald eagles soaring overhead, or the endangered piping plover hopping along the shores of Lake Michigan, but now we can add their coastal cousins to our sighting lists. Speaking of bald eagles, check out this link to a live camera on a bald eagle's nest where two eaglets were recently hatched near the Platte River State Fish Hatchery in Honor:
You can find out more about birds and birdwatching around the Frankfort, Crystal Lake, and Sleeping Bear Dunes National Lakeshore by visiting http://sleepingbearbirdingtrail.org.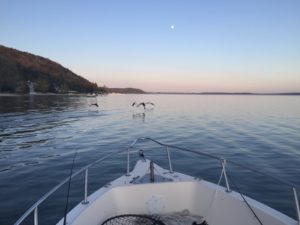 It turns out even the pelicans know how awesome Crystal Lake is! And check out that moon rise in the evening sky. The pelicans may have moved on to their summer homes, but we're waiting for you to move to the phone and give us a call to visit us at Chimney Corners Resort. You never know what you might see.