Well, it's the summer of post (well, maybe not quite over) pandemic at Chimney Corners Resort and we are just as busting-out-busy as we have ever been. Seems like everyone wants to get back to traveling, and even staying a little closer to home in the bargain. This means occupancy is up and increased occupancy means we are crazy busy. Which also means I've put posting our Lakeview renovation journey on the back-burner.
Some of you have already had the chance to stay in Lakeview #2 last summer, which was completely gutted and updated the previous winter. In that unit, the color scheme was so varied, that you couldn't really call it a "scheme", more of an "afterthought". We embraced our retro feel with a blast of Buttered Yam from Benjamin Moore, topped off with crisp white trim. This past winter, despite supply and labor challenges, we were able to continue the Lakeview love in the neighboring Lakeview #3. Formerly a melange of pink and green, we took the opportunity in this top-to-bottom renovation to transition to a more nautical feel of cool blues and neutrals, namely London Fog, Mysterious, and Kingsport Gray.
Rather than read, I bet you'd rather see! And what better way to show off our results than to show you the "before" pics to emphasize our hard work!
Let's start with Lakeview #2!
Here are some before shots of the living/dining/kitchen areas:
Nice, comfortable, but needs some love. A little color identity crisis. And the kitchen, well needs some updating to say it kindly.
Here's our finish: New walls, new paint, new gas fireplace insert and surround. New bed, tables, lamps and lighting fixtures and artwork. We moved the half-walls back a bit to make the room feel larger, and to make room for a custom dining table, able to seat four guests comfortably, compared to the old tiny 2 person table. The kitchen was also gutted, with custom cabinets, a microwave, an induction burner and new fridge. New tough-wearing laminate waterproof flooring throughout for easy cleaning. And, bonus: air-conditioning!
Lakeview #2 Overview

Lakeview #2 Dining area

Lakeview #2 Kitchenette

Lakeview #2 Queen

Lakeview #2 Living area
And then there was the bathroom and back bedroom.
Lakeview #2 Twin bedroom

Lakeview #2 Twin bedroom

Lakeview #2 Bath
Nothing would do but a complete and total redo of both spaces.
Those spaces are tight, so we added a pocket door to the bathroom and a sliding barn door to the bedroom. And instead of the tight twins, we now have custom-made bunk beds. Now there's room to spread out in both areas!
Lakeview #2 Bathroom

Lakeview #2 Tub/Shower

Lakeview #2 Bunkroom

Lakeview #2 Bunkroom
We were so pleased with the results of Lakeview #2 (and of course, the popularity of that particular unit increased as well), that we moved on to Lakeview #3 this past winter. Keep going for the before and after pics of this sweet little apartment.
Lakeview #3 Living Area

Lakeview #3 Kitchenette

Lakeview #3 Queen Bed
Pink, green, red…brick walls, old kitchenette. Again, functional, cute, but needed some help. Just so you understand the depth of these renovations, here are some pics of the "in progress"
This time we completely took out the half -wall hiding the kitchen and just opened up the space. All new flooring again, tongue and groove walls and fresh nautical feeling paint makes a huge difference. Once again, custom cabinets and new fixtures, and did we mention tile? We LOVE the new modern feeling tile on the fireplace surround (again, updated to gas) and in the kitchen. Brand new furniture and furnishings. And of course, air-conditioning as well. How about this transformation?
Lakeview 3 Living Area

Lakeview 3 Living/Dining

Lakeview 3 Queen

Lakeview 3 Kitchen
Time for a new bathroom and twin bedroom, both in desperate need of updating and a complete renovation. Again, we went with the pocket and barn doors with the bathroom renovations. This time though, we kept the two twins, but they are custom-made beds with storage underneath. That eliminated the need for a bulky dresser that takes up space.
Before….
Lakeview #3 Bath

Lakeview #3 Twin Bedroom

Lakeview #3 Twin Bedroom
And after!
Lakeview 3

Lakeview 3 Bath

Lakeview 3 Shower

Lakeview 3 Twin Bedroom

Lakeview 3 Twin Bedroom
Of course, since we have been working so hard on the INSIDE, it only stands to reason that we had to also freshen up the outside.
ALL of the Lakeview units received new windows and new doors. A fresh coat of red paint and some new railings and fencing, plus new weatherproof Adirondack chairs completed the look. Then we had custom parking signs made by an Etsy artisan. The Lakeviews are coming along nicely! Next up…which do you think??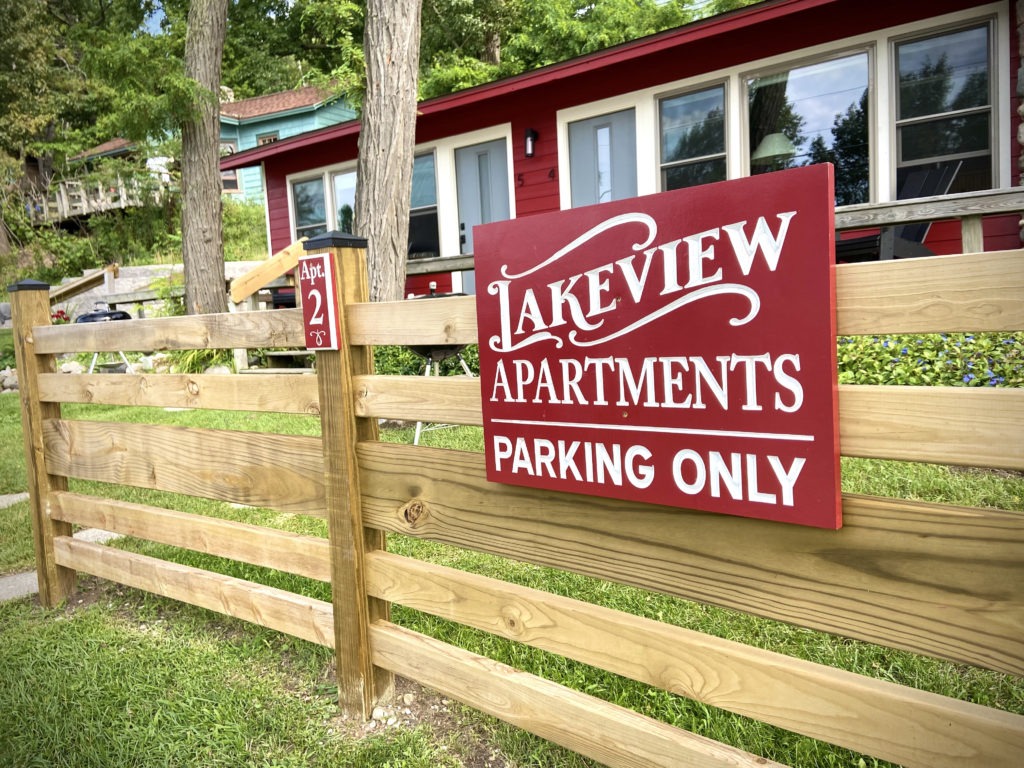 Lakeview 3 Exterior

Lakeview #1 Exterior

Lakeview Apartments