Last year you may remember our unplanned renovation of Room #4 in our historic Lodge. We were so pleased with the results and our guests were so enthusiastic about the redo, that we made a pact to pick one room per year to completely makeover. And when we say complete, we mean walls, floors, lighting, beds, dressers, linens, decor, and everything that goes in a room!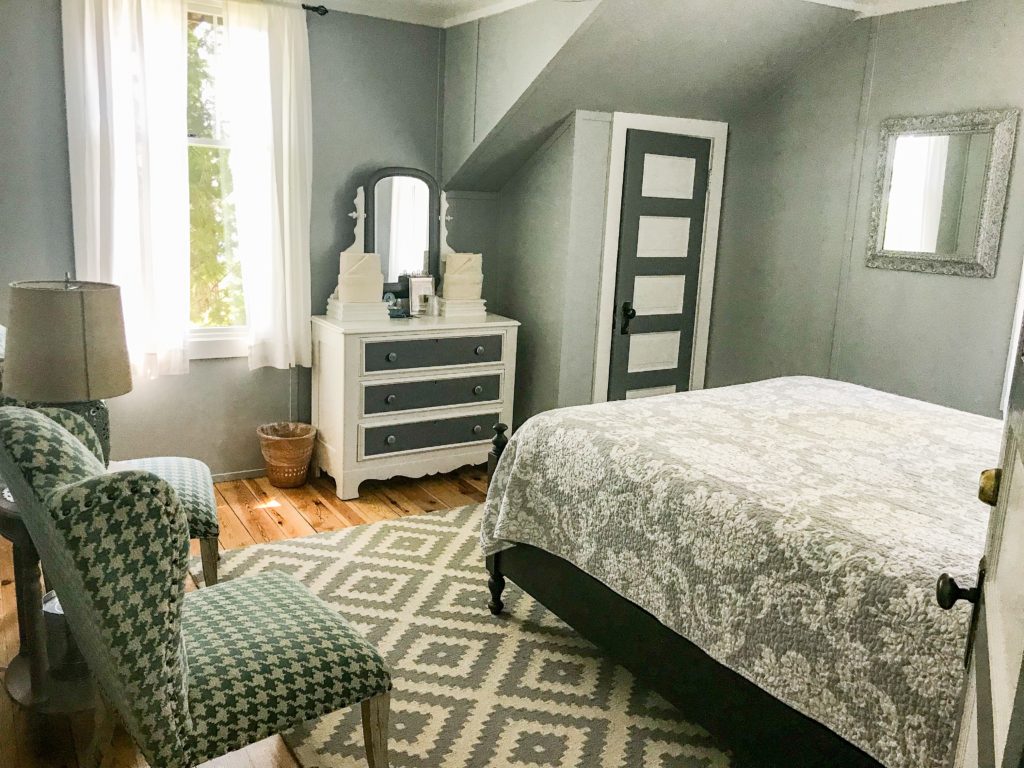 Which brings us to Room #5. Once a double bed in a tight room at the end of the hall, it was still a bright and sunny room with two windows. As this room is on the "back" corner of the Lodge, it only permitted a small sliver of a view of Crystal Lake, and only if you were standing at the window. Nonetheless, it was a cozy room, and guests were not averse to staying there, if a little cramped. Next door, also on the back side of the Lodge was Room #6. Room #6 was furnished with two twin beds, also a tight squeeze and with only one window facing north towards the woods, could seem a little dark. The main complaint we got about 6 was "it's just too small".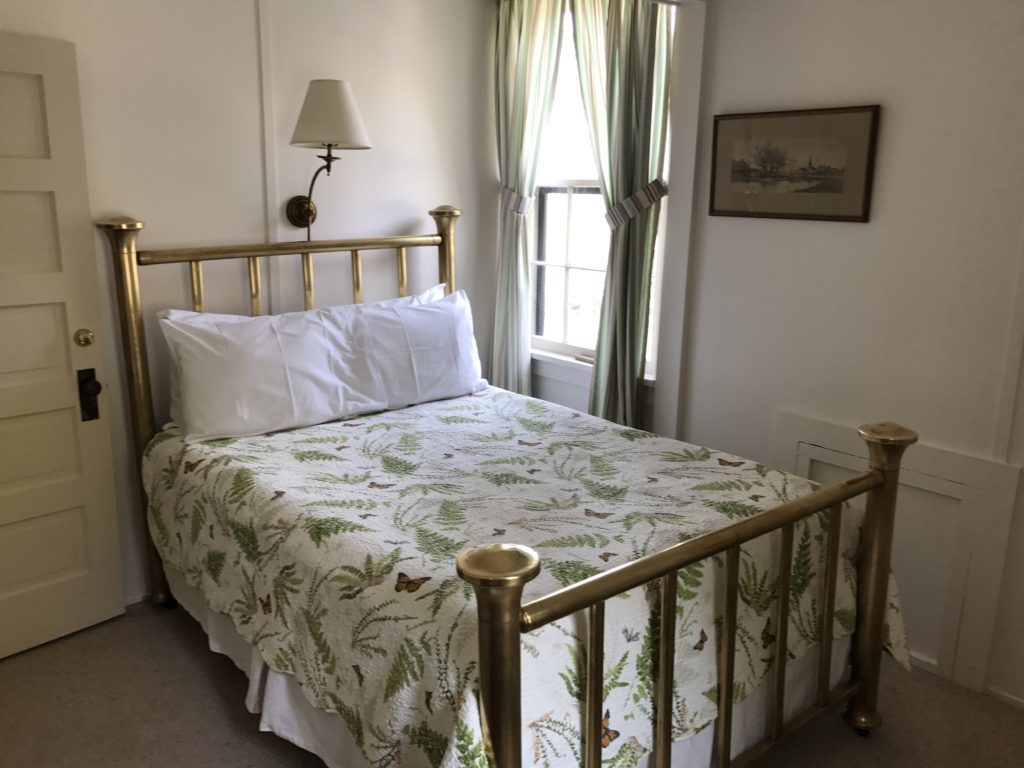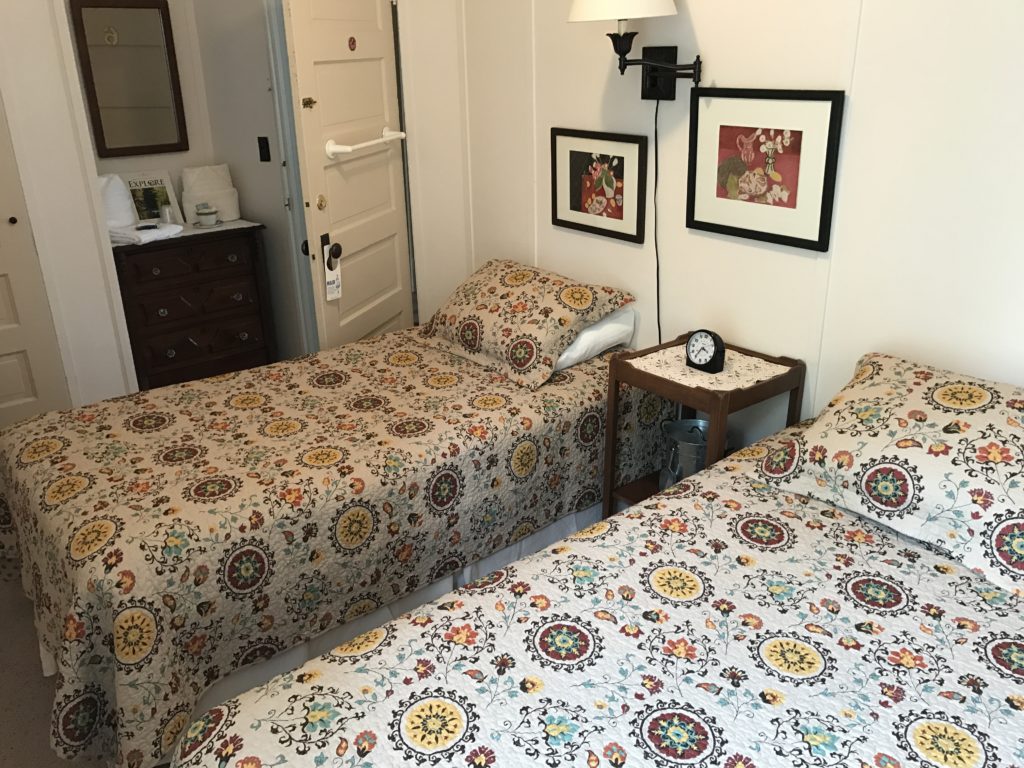 What to do? You can't exactly bump out the walls and create a bigger space when you are talking about the second floor of a historic 1910 construction. The solution? We merely knock out a wall and combine the two rooms! We no longer have a Room #6, but we have one heckuva Room #5. Officially known as a "suite", our new and improved room features a California King bed (not as wide as a regular king, but longer – great for all you tall people out there) and a sitting area with a couch that converts to a pullout bed.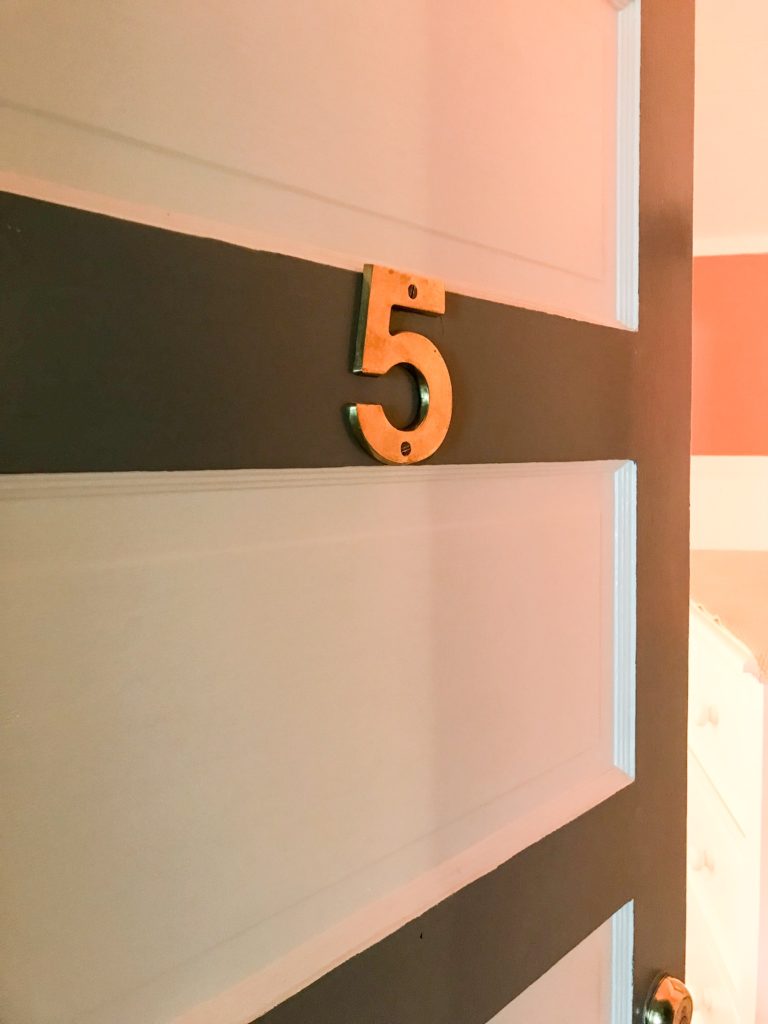 We started with the overall gutting of the two rooms, knocking out the wall, and tearing out the old "wallboard" on the ceiling as well as the walls. We can thank the team of Rob Rafferty Construction for all the rough framing, the drywall, and the gorgeous bead board walls and tongue and groove ceilings. They also installed three brand new Anderson windows.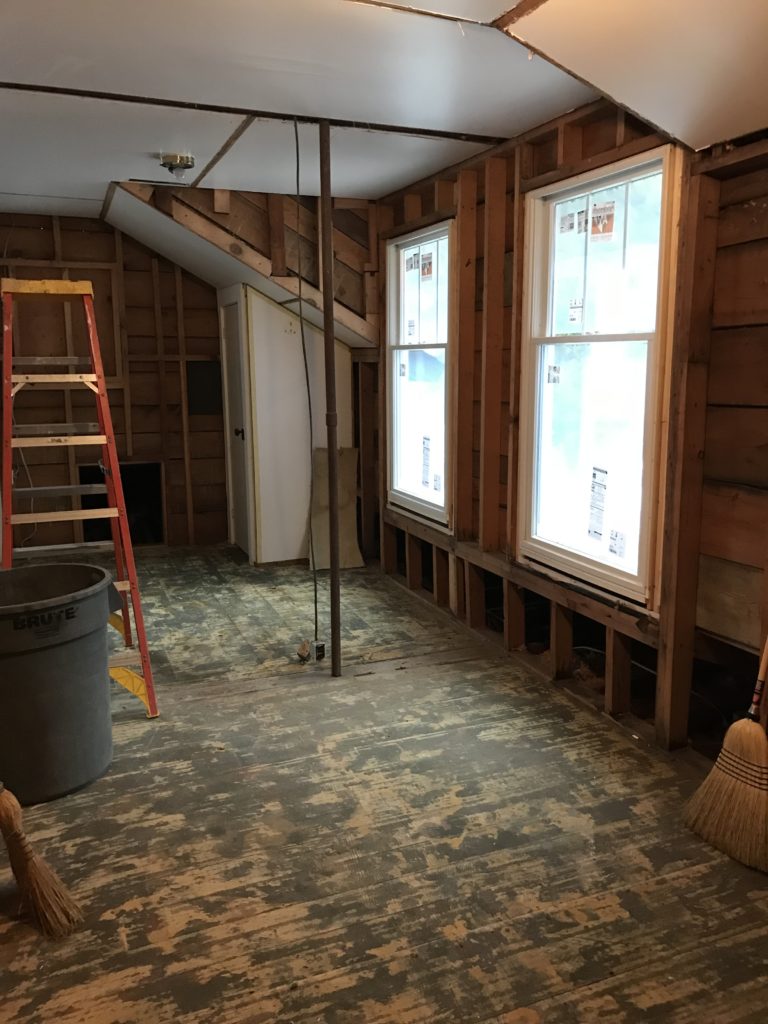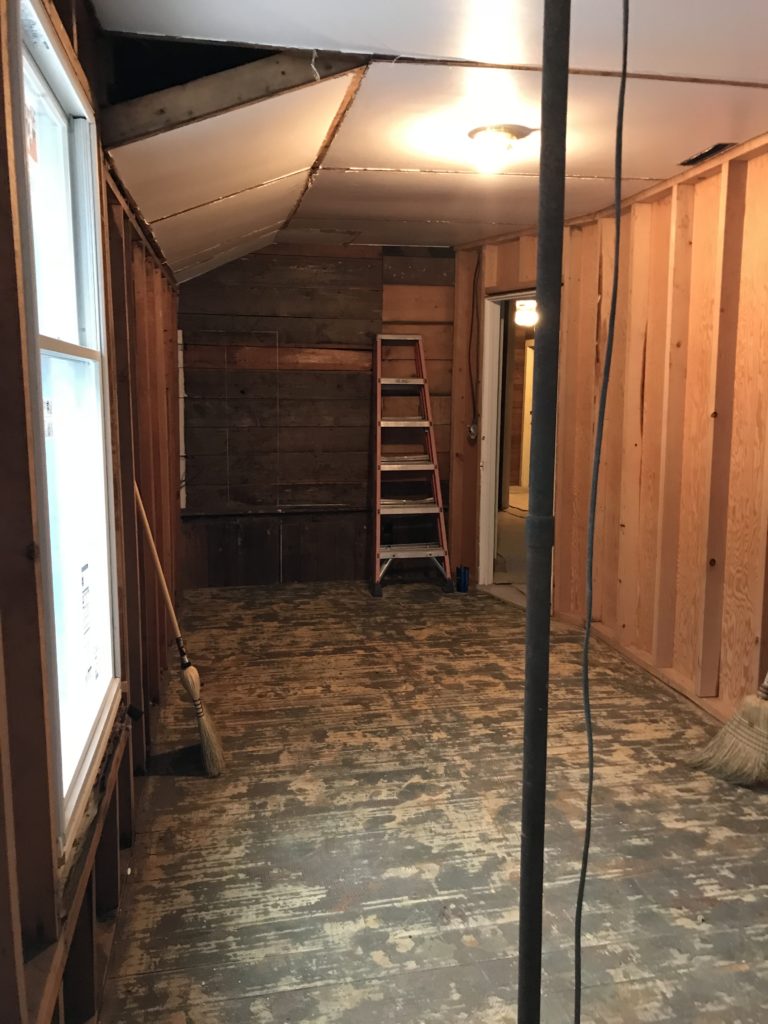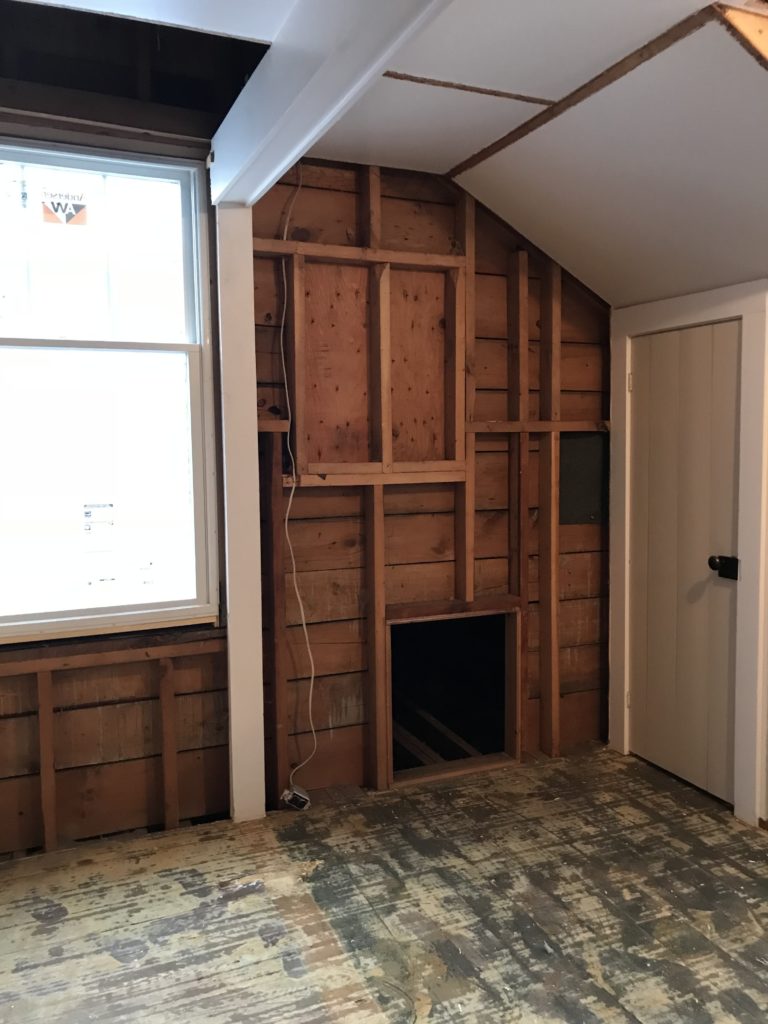 The same hardwood floor we discovered under the carpet when we redid Room #4 last year continued on into this neighboring room, so once again, Mr Natural Floors gave it a sanding and a coat of clear polyurethane. If you look closely, you will notice the floor boards run in opposite directions where the two rooms meet. All part of the vintage charm that still remains, even when we remodel!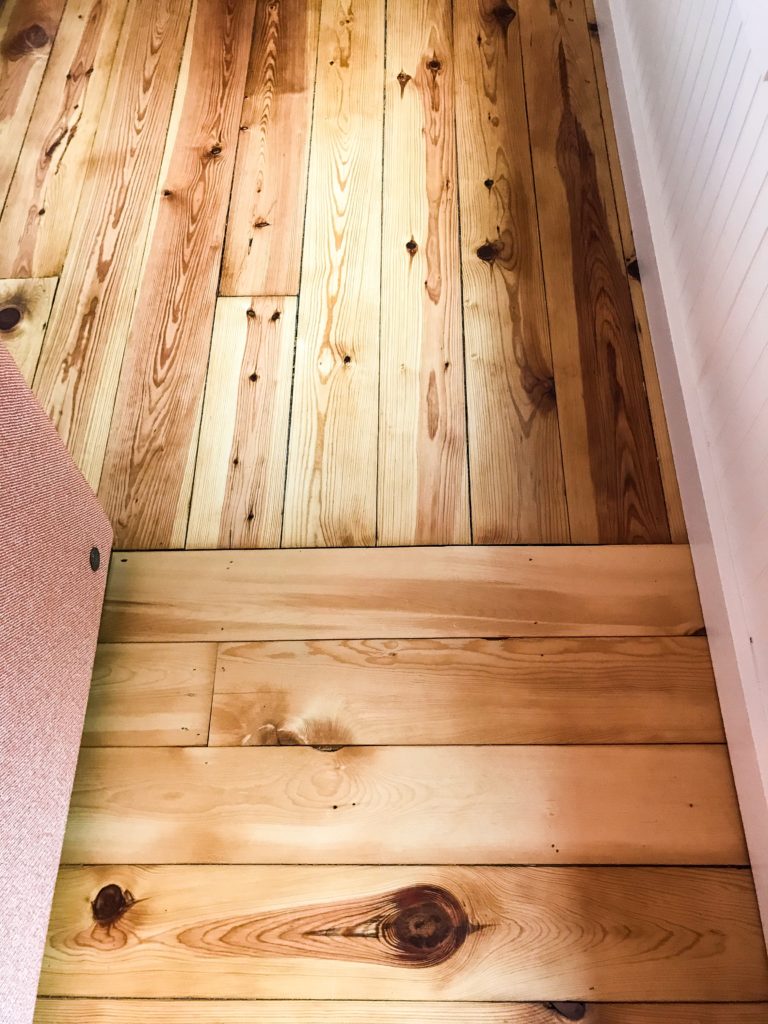 What color to paint? Mary Rogers fell in love with the pullout sofa she discovered on sale at Betsie Bay Furniture in Frankfort (our favorite place to shop for all things furniture and accessories). It was a soft orange tweed, an unusual color for sure, but the inspiration for the eventual color choice of Sunset Boulevard. (Someday I want a job naming paint colors.) You might expect orange walls to be garish and harsh, but this orange is a soft tangerine that glows mellowly, brightening the room without overpowering the rest of the decor. Of course, it helps that all of the new bead board walls and trim are painted a crisp, warm white, named Chantilly Lace (again with the vintage overtones – it was fated to be!). Since the combining of the two rooms means there is now THREE windows, all new, with new pull down, cordless blinds, even though it is north and west-facing, it is one of the brightest, sunniest, most uplifting rooms we have!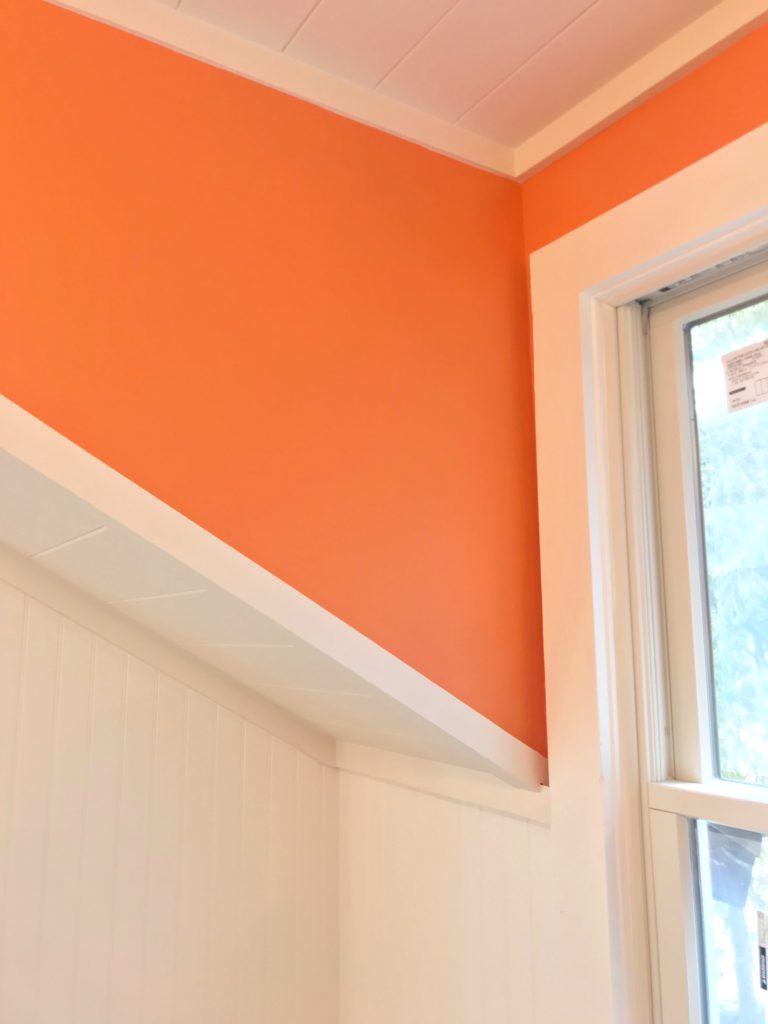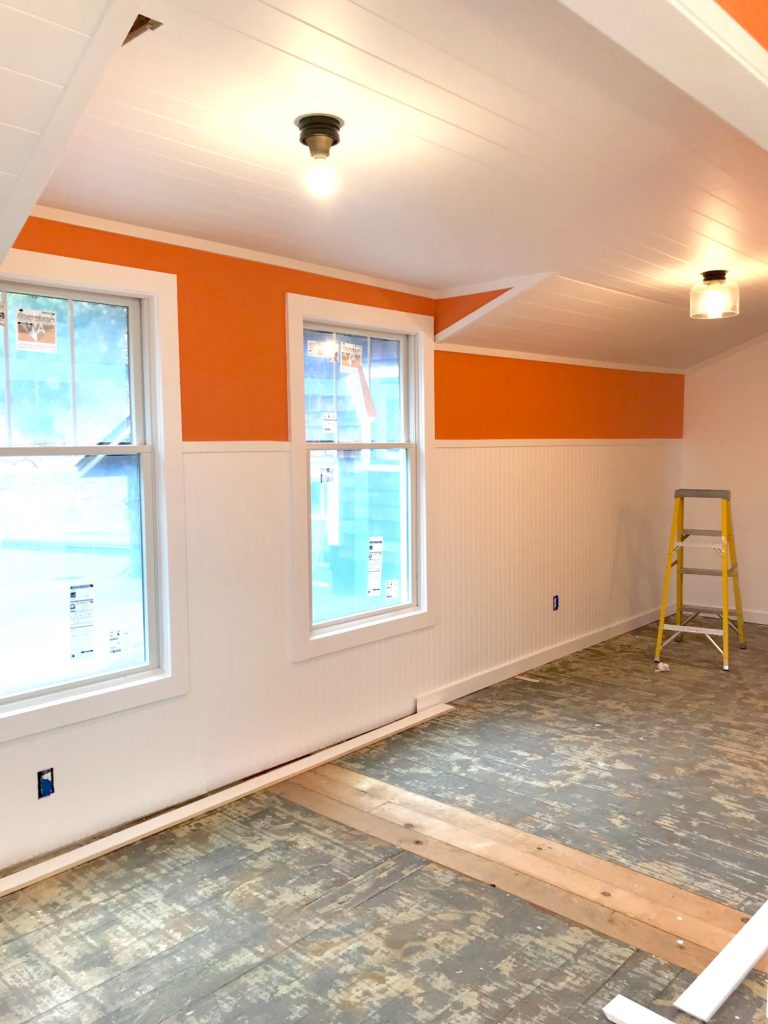 Throw in the finished floors, and now we are getting somewheres!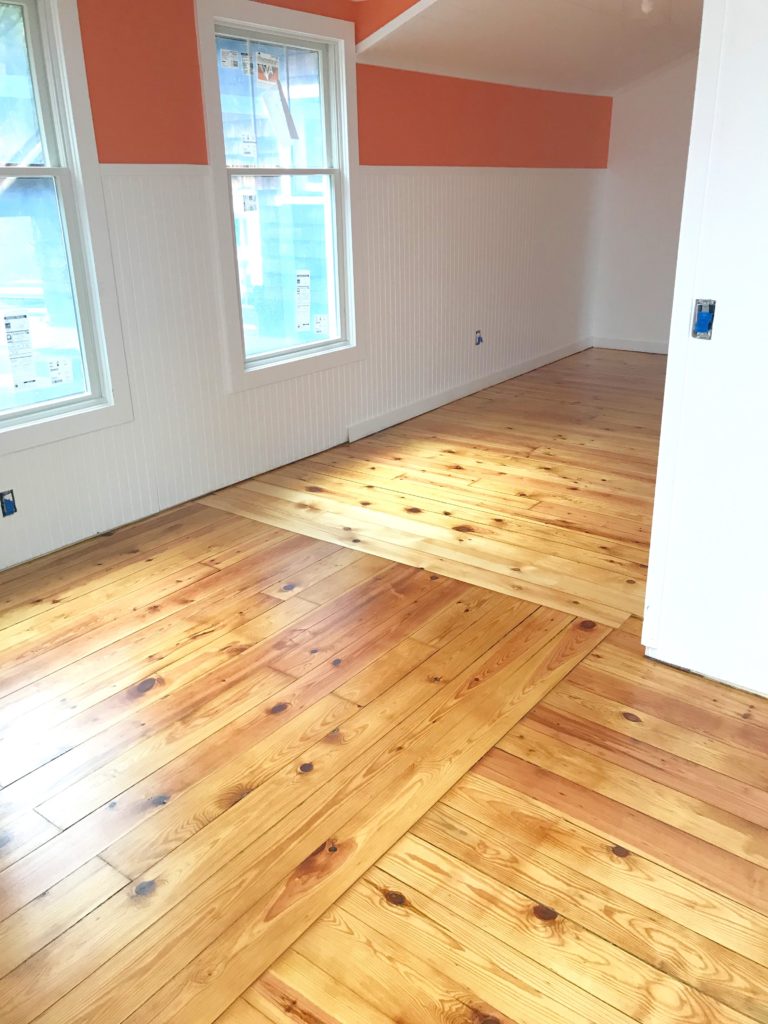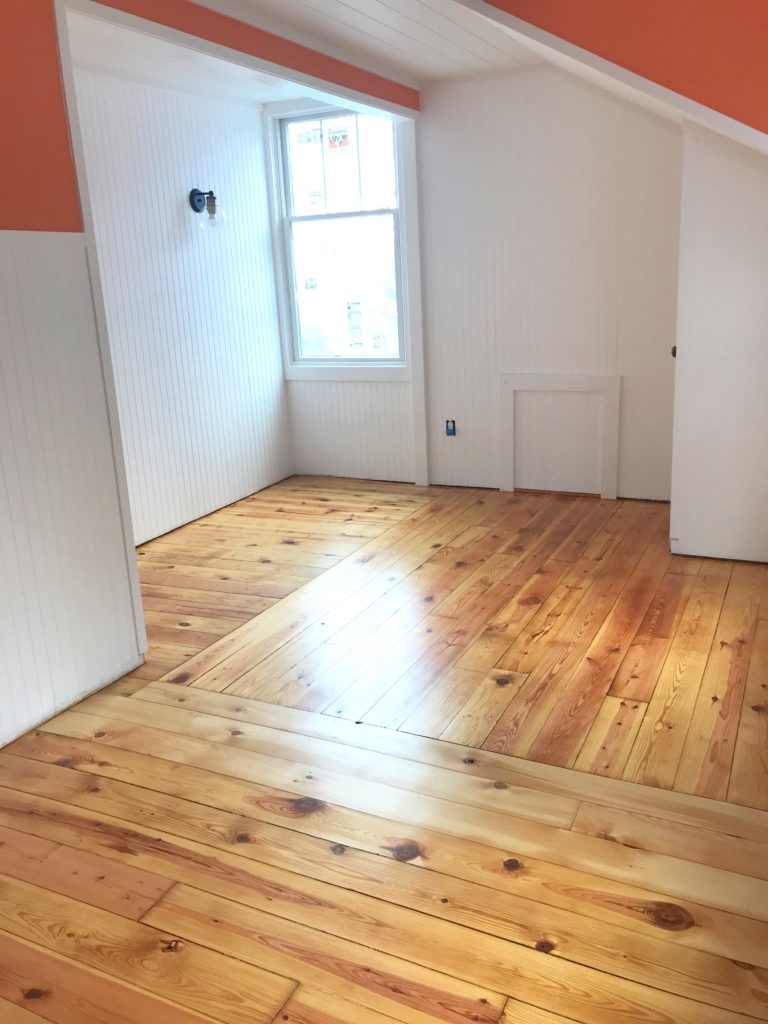 Speaking of Betsie Bay Furniture, it was also the place for our new California King bed and our spiffy new dresser and coffee table. Add in new, smaller "chat" table and chairs to the couch, and you have a cozy place to enjoy your morning coffee, or curl up with a book on those rainy, Northern Michigan days.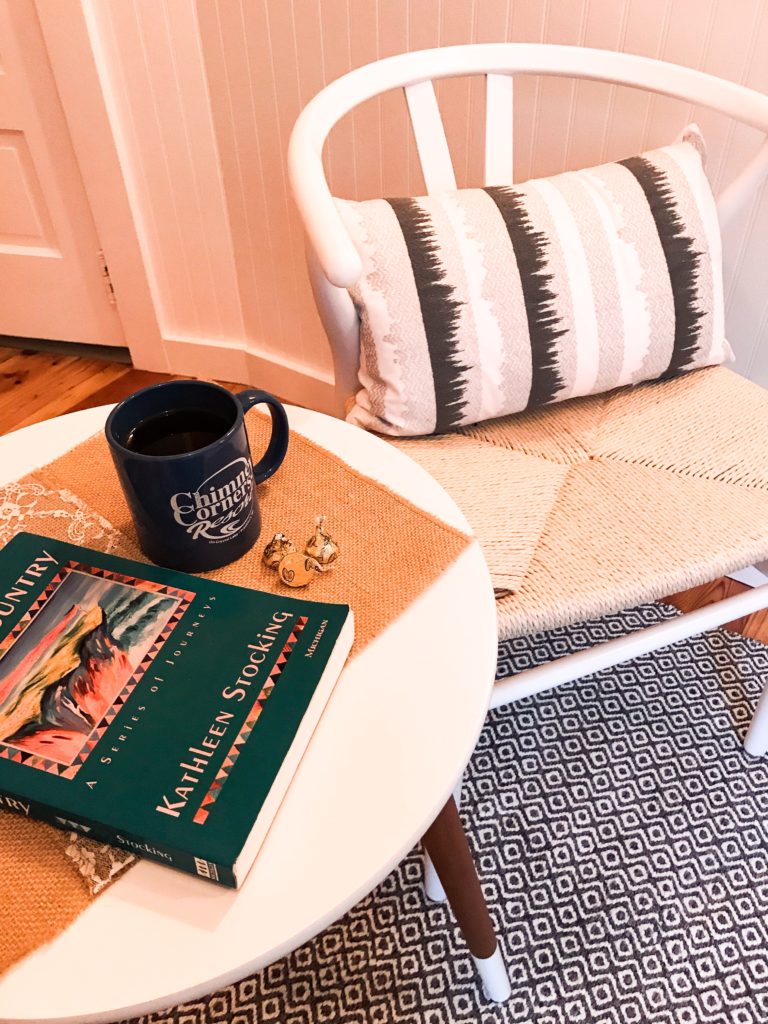 We completed our renovations with new lighting (and more of it), new art and new accessories. While our focus for the Room #4 renovation was cool, soothing grays, our goal for this makeover was to kick up the spirit of the room, and give it a warm, friendly and vibrant feel, while still retaining the character of our beloved Lodge. We are sure you will agree! Scroll on for the finished product and more information on renting Room #5 in our historic Lodge.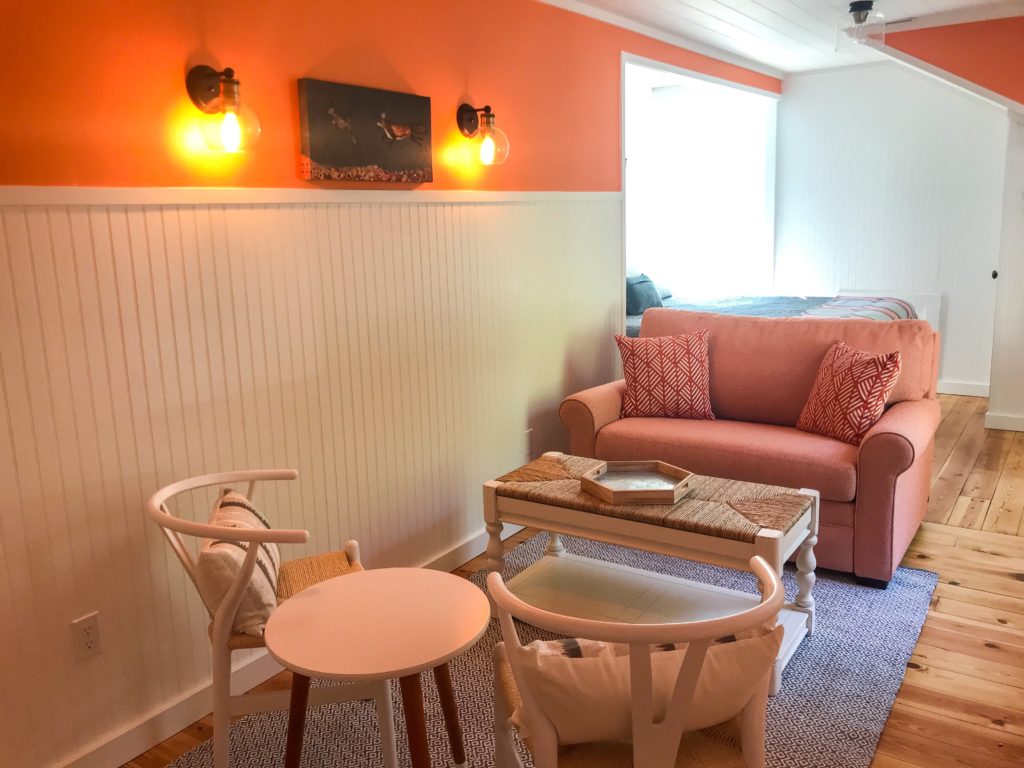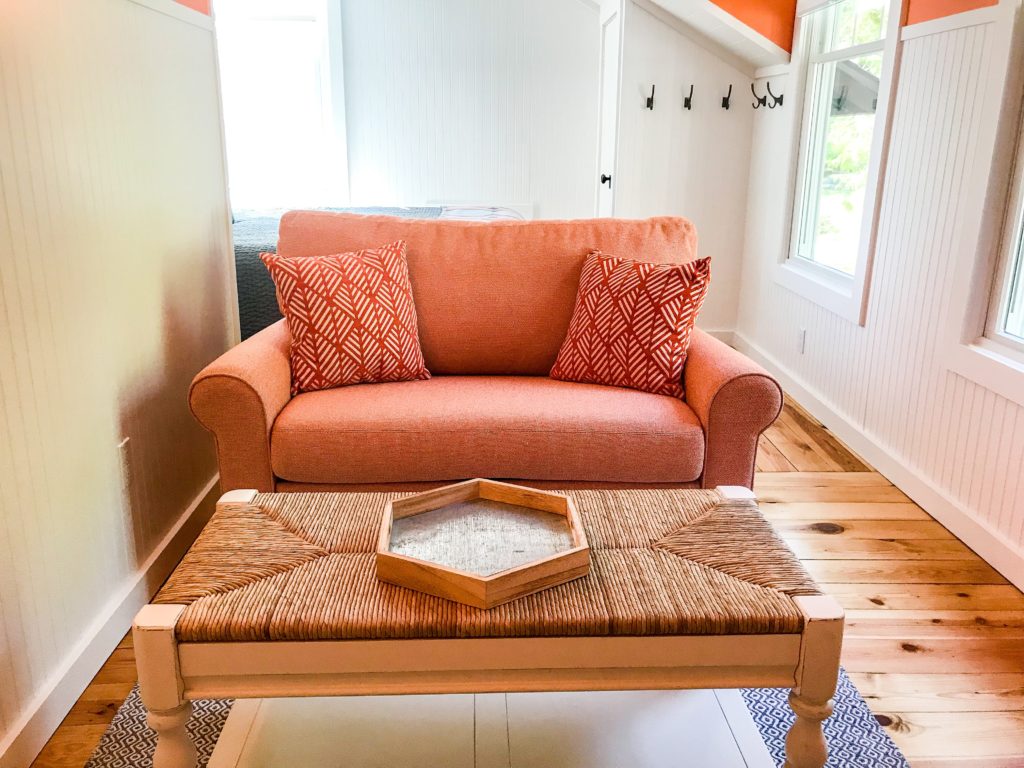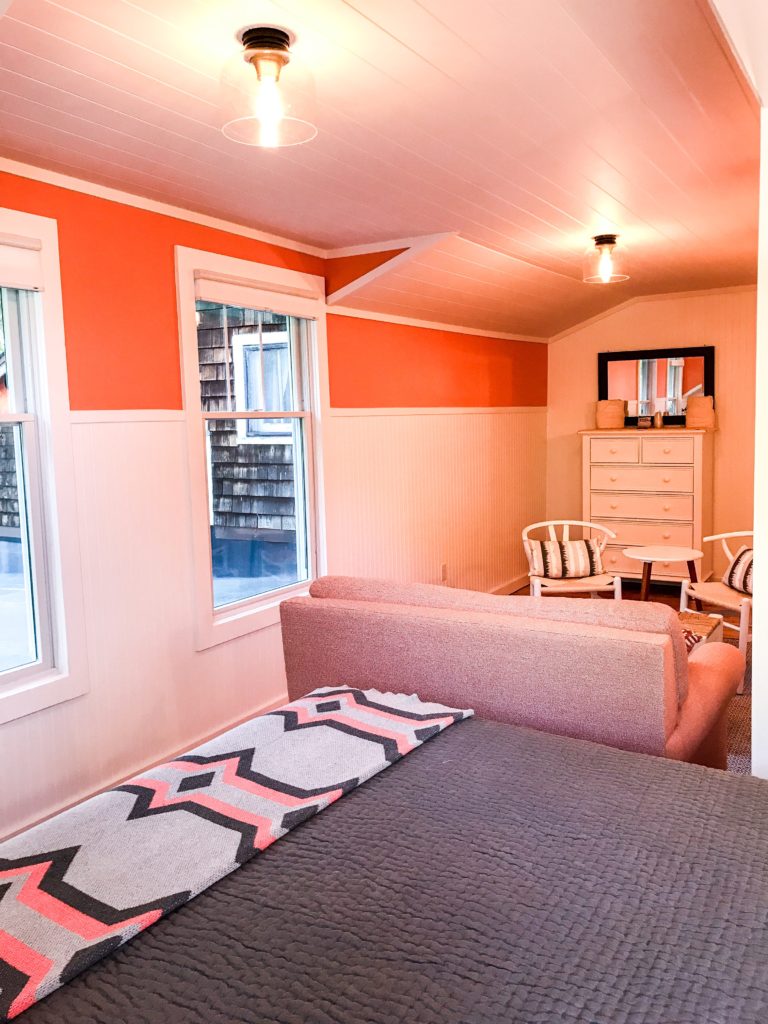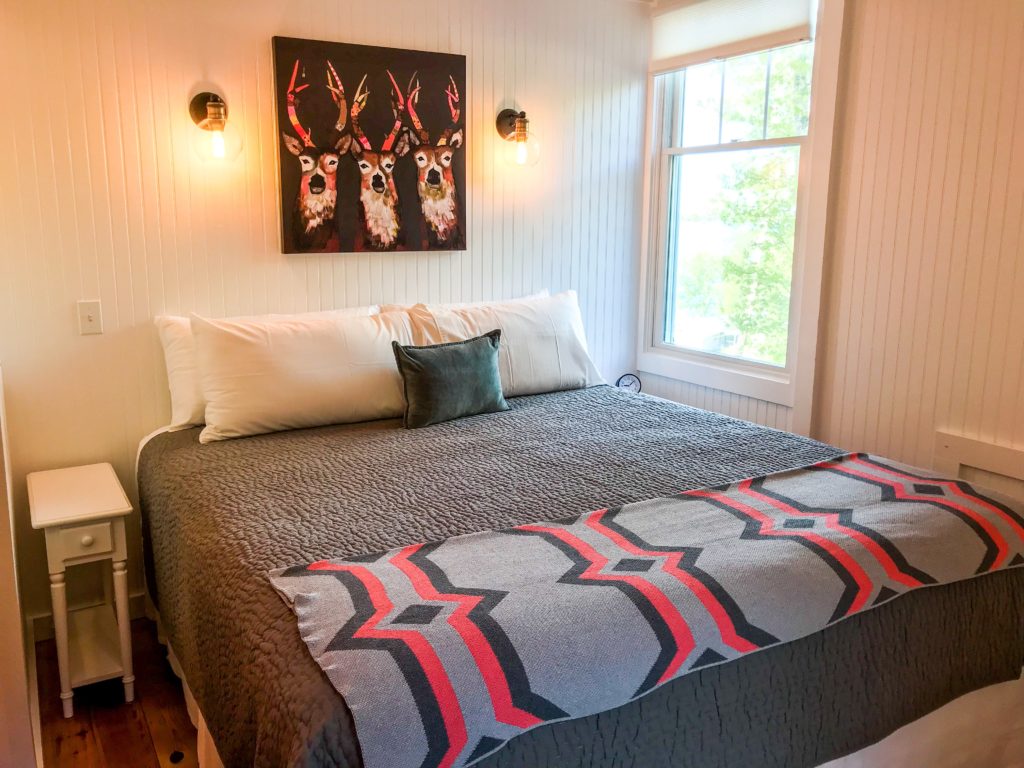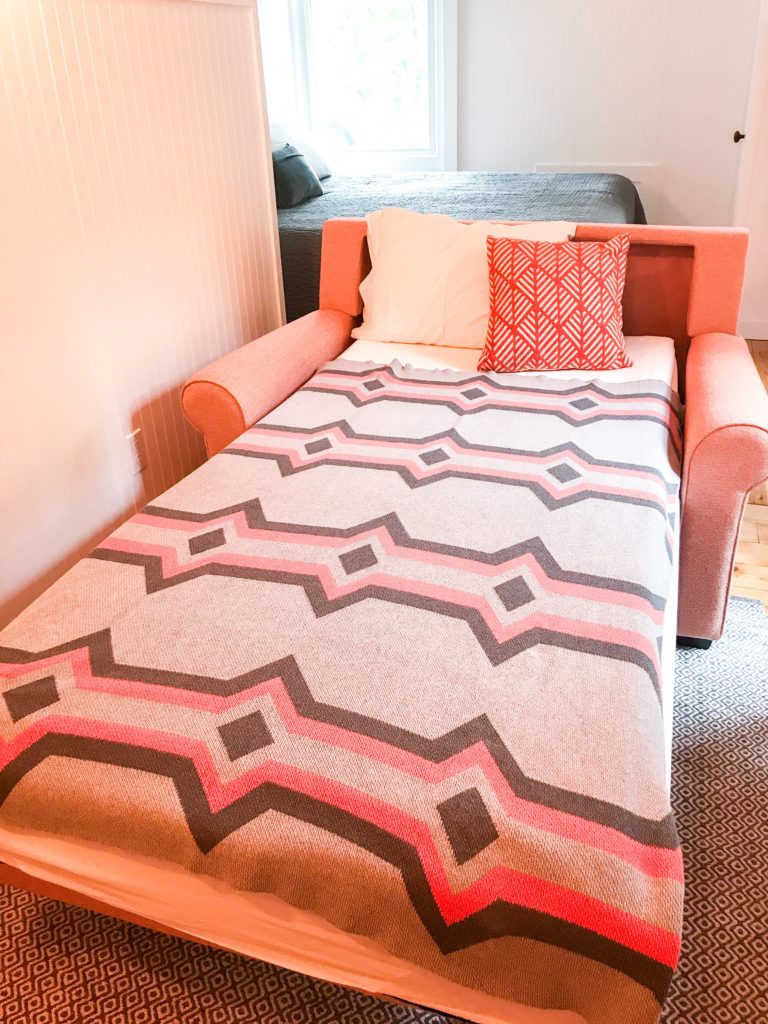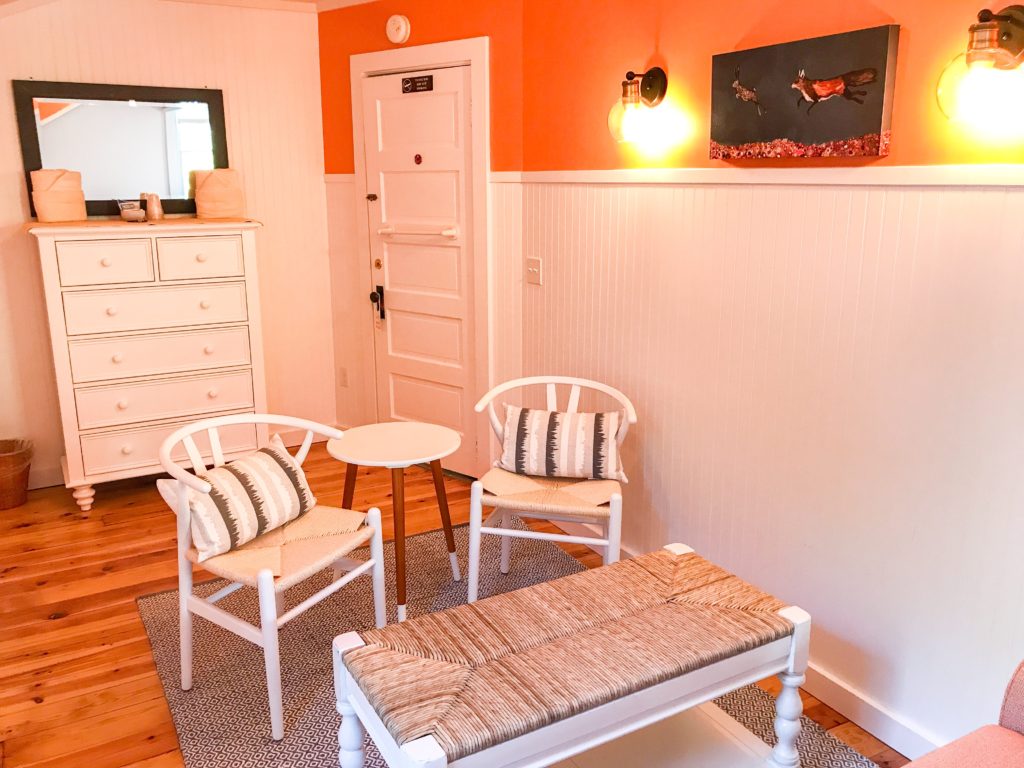 You can rent Room #5 throughout the summer by the night for $150 per night. In the spring and fall, your family of three can stay for just $90 per night! Book online, or give us a call at 231-352-7522. We'd love to hear your opinion! Also, if you're in the area, we are having an Open House to show off our renovations in Room #4 and #5 on June 17th from 4:00-7:00pm.