One of the biggest attractions for visitors to Northern Michigan is fishing, whether it be on the "big" lake (Michigan), or any of our numerous smaller lakes that dot the region. Chimney Corners Resort, located on scenic M-22 highway, is also on Crystal Lake, one of the deepest. clearest inland lakes in Michigan. According to the DNR, our home lake is home to one of the most diverse fish populations in the state. (http://www.michigan.gov/dnr/0,4570,7-153-10364_53405-322819–,00.html). Kevin Wade and his family are long time resort guests who spend part of their vacation time exploring that diversity…with great success! We "caught up" (little fishing pun for you) with Kevin and asked him to share a little of his technique, and his photos from just a couple weeks ago.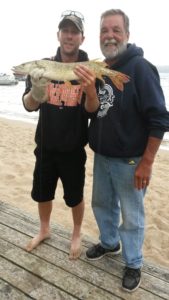 Kevin normally is on the hunt for lake trout, salmon and steelhead, all of which are good eating! The salmon and steelhead are the most fun to catch, opines Wade. They use a "down-rigger", which, for those of you who are not fisherman, is a device which uses trolling and places a line at a desired depth. In this case, they were fishing at 50 to 75 feet down in 70 to 120 feet of water.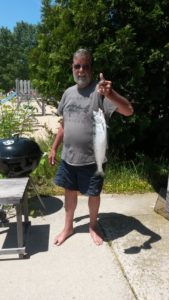 They used trolling spoons as bait for these catches, and have had the most success with gold, green and blue lures. Time of day has not seemed to matter much, but if pressed, Wade believes morning and just before sunset are usually the best.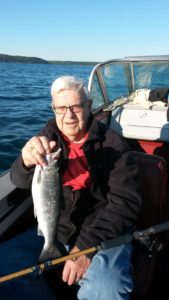 Deep water not your thing? They also have had success with catching pan fish in the shallower water off of the south shore, but have to content themselves with smaller catches. There are weed beds there where you might catch some perch, Wade confides.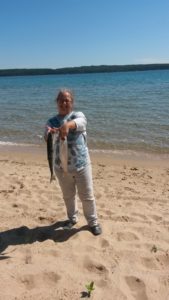 Whatever your pleasure or preference of fish, Crystal Lake delivers! Plus, who doesn't want to spend a peaceful morning or evening on the lake?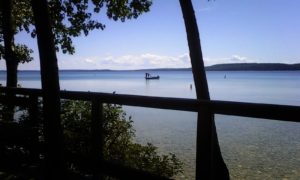 Interested in trying your luck? You can pick up bait, lures and gear as well as snag a fishing license in Frankfort at The Tackle Box , or Riverside Canoe, located just a couple miles north of Chimney Corners on the edge of the Sleeping Bear Dunes National Lakeshore. And of course, you can stay with us and get that early start in the morning! Call us now at 231-352-7522 or book online at www.chimneycornersresort.com under the Check Availability tab! Almost all of our units have been discounted for the summer, including apartments at select cottages at 25% off. Rent a cottage for three nights and you'll have a kitchen to cook up your catch! And of course, shameless plug for our beautiful beach shown off in these photos. Happy Fishing!