For those of you that have stayed with us here at Chimney Corners Resort, you are aware of the many different options of lodging we have; smaller apartments, a historic Lodge bed and breakfast, and cottages that sleep anywhere from two to eighteen people. All of these accommodations vary in age and decor, from an updated, modern beachy feel (Bluewater) to shabby chic rustic barn (Woodsmere) and everything in between. When returning guests breeze in for a week or two every summer, they value the simple, laid back "vintage" feeling that Chimney Corners represents.
But take a moment to really reflect on what it means to keep 20 cottages, all with decks/porches and fireplaces clean, comfortable and livable, while still retaining that vintage character that guests know and love. Now add in a historic two story Lodge with eight rooms, two full bathrooms, a separate apartment with bathroom, four dining rooms, a commercial kitchen, office space and four charming stone fireplaces. Picture how much work is required to keep your own home, especially if it is older, in great shape. Are you getting an idea of how much work is involved? Sure, we shut down all of the buildings November through April, which is no small feat, and involves removing, bagging, wrapping, tagging, and covering every stick of furniture and piece of decor. Come spring, it all reverses, when every bit of every unit is washed, scrubbed, polished and organized for another year. Our maintenance manager, Allan "Howie" Howard has all he can do to keep up with issues that arise all summer when guests are in the cottages, which means he works full time all winter as well to complete "projects" to fix and improve each dwelling.
But one man cannot accomplish all that needs to be done in 20 cottages (plus the Lodge), especially when it comes to going above and beyond just fixing what is broke. And the best time to accomplish these improvements? Spring! In early April, Howie turns the water back on, the housekeeping staff starts cleaning, and Mary and Jim begin to evaluate all of the small, medium, and large tasks needed to update the cottages and grounds, while still keeping a handle on a tight budget. Here are some of the extra touches accomplished this spring, all in the name of your vacation pleasantness!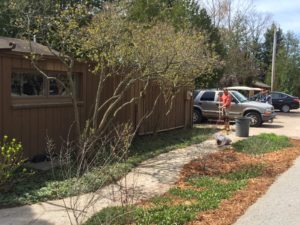 Howie and his able assistant Evan take care of most of our grounds with a little help from Land and Lakes for the mowing and spring clean up. But what about all those trees? This year we had a tree service in to take care of some of the dead and dying trees around Bluffholm, Hillside and the West Hills, and although it's slightly more bare, the views from the bluff are much improved!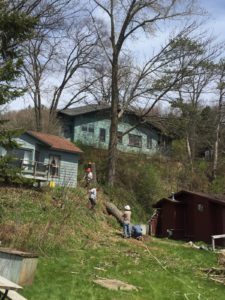 If you were a victim of the leaky roof in West Hill #1, you'll be pleased to know we have a brand new roof on the West Hills as well as Kudzu! Kudzu gets the modernized update of a metal roof over the screened porch area, but we think it blends quite nicely with the main roof.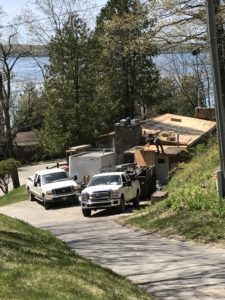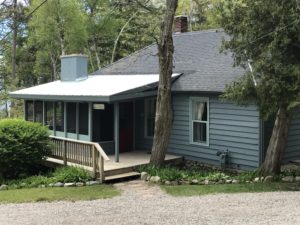 Kudzu was also the recipient of an exterior paint job, and so was Jonquil. Which goes nicely with the brand new deck surrounding Jonquil. Although the footprint remains the same, the old and rotting deck has been completely replaced.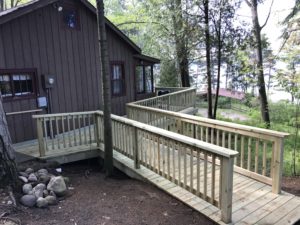 We can't forget the beach area. Howie and Jim brought in 50 new yards of beach sand to spread around the shore, and 30 more yards over by the dock area. Your toes will say Thank you!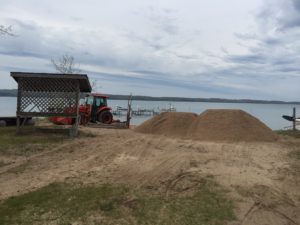 Yes, the waters of Crystal Lake are impressive, but equally as dear is the frog pond up by the laundry and garage. Howie and Jim donned their waders, drained the pond and shoveled out half the leaves that would eventually clog up the water and promote weed growth. Don't panic, none of our froggy friends were harmed in this process; the boys carefully scraped the other half of the leaves into the center of the pond for them to rest and wait out the process, as well as the tall grasses surrounding the pond where they can hide from natural predators such as snakes and raccoons. The pond has been refilled and is back in action.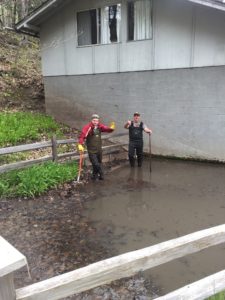 Of course many places get new bed linens, lamps and other decor. Bluffholm's living room got a new picture window, and it actually opens! Bring on the lake breezes! Bluewater cottage got all new living room furniture. The Lodge Apt, gets a facelift in the decor: new quilts, new chair, new pillows, new art, and new tables and lamps. Whew!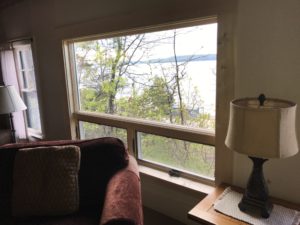 And lastly, we are so proud of our new (looking) kitchen in Woodsmere! We installed a dishwasher (yay!) because when a place sleeps 18, you kinda need a dishwasher. Doing this robbed an already smallish kitchen of valuable cupboard space. Our on-call carpenter, Jim Petak, was able to modify the cupboard around the dishwasher into a slightly smaller space. Opposite was a smaller stand alone old metal cabinet with a non-matching wooden wall cabinet. We ditched those, and Jim P. built us a brand new, better functioning cabinet. But jeez, the new doors did not match the existing cabinet doors, so he made us all new doors! With a snazzy new paint job in "Thistle", they look like brand new cupboards! Adding to the storage space, he also installed rustic shelves on both walls supported by painted plumbing pipes (say that five times fast!) giving us a whole new industrial modern rustic vibe. And, we did get some new living room furniture if you aren't the cooking type.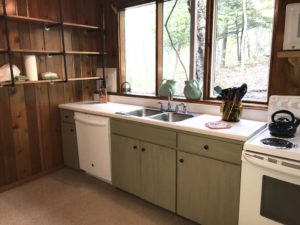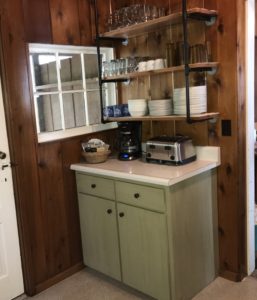 Of course, with Highview recently purchased, we are already seeing some great decor changes. We look forward to seeing the new owner's visions for their piece of Crystal Lake heaven come to fruition. Updates will follow as we get them.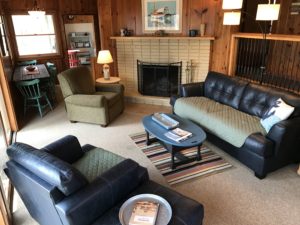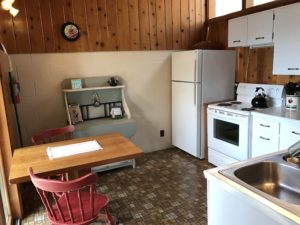 All of these things happened in approximately four weeks. What did you do to improve your living space in the last month? We look forward to your reactions to our improvements when we see you this summer! If you haven't scheduled your vacation yet, now would be a great time! Click on our new Online Booking Option to get started.